In collaboration with The Newark International School of Violin Making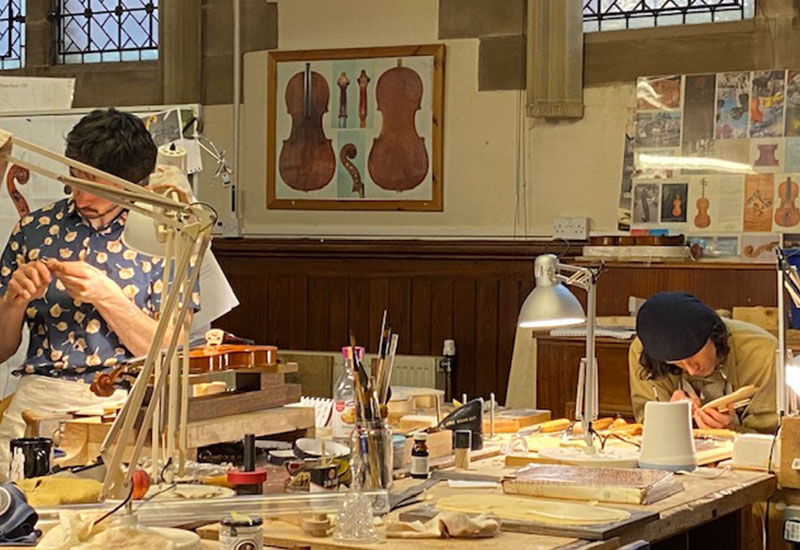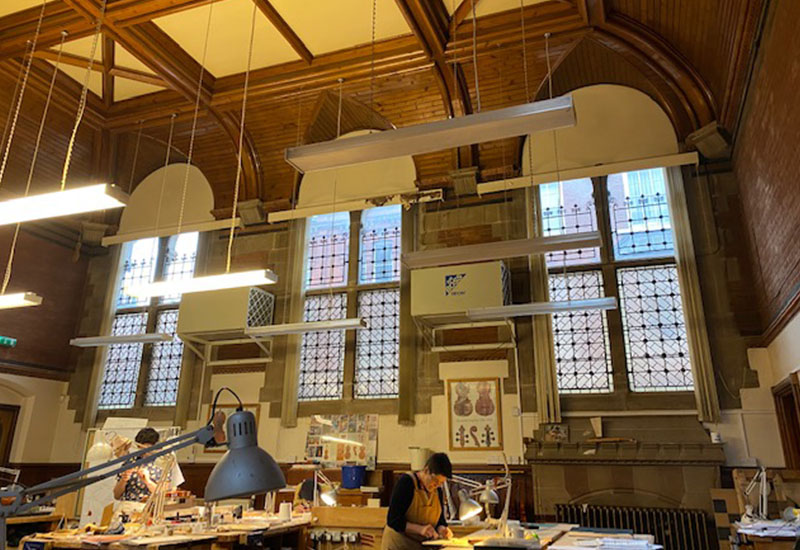 Newark on Trent is home to the largest violin making school in the UK, with an international reputation for excellence, training successful makers from throughout the world. The School of violin making is part of a wider school of Musical Instrument Crafts, including woodwind, piano and guitar schools. As of 2017 the college runs a 3-year BA (Hons) degree in Musical Instrument Craft. It also runs a one-year Foundation Course and evening courses.
The School of Violin Making and Restoration has strong links with the international violin trade. Experts in the field act as advisors to the course as well as visiting to give lectures. Graduates can be found in many of the top workshops around the world as makers and restorers of the violin, viola and cello. Situated in its own building in the centre of historic Newark on Trent, the School is itself an international community with many social and cultural opportunities. 
Gallery 6 have asked a selection of artists to depict, in their own style, this beautiful instrument.  The artists include Susan Pollard Gillespie, Haidee-Jo Summers, Sarah Sharpe, Ann Pollard, Scott Tetlow, Darren Stevenson, Sarah Watson, Liz Goulding, Anette Holt, and Susan Isaac.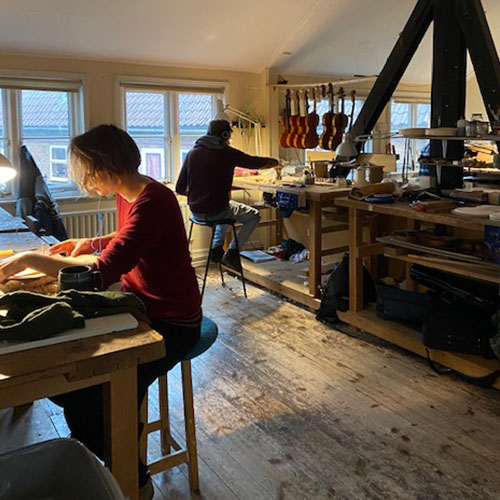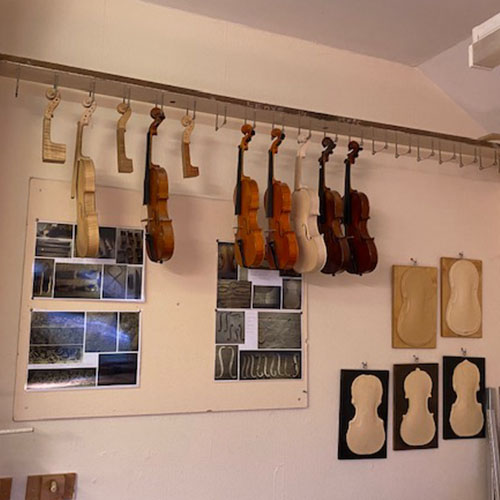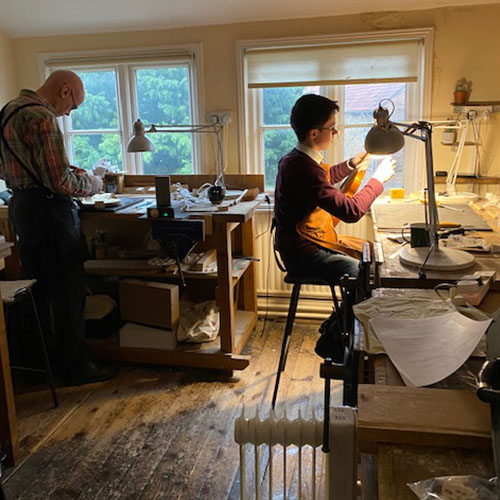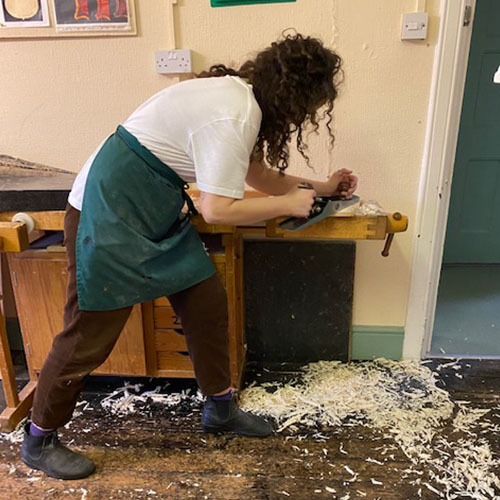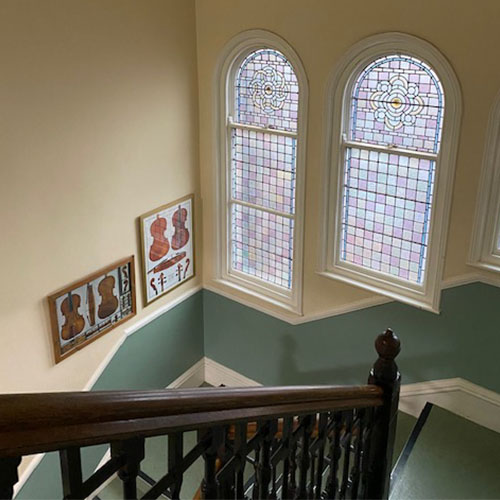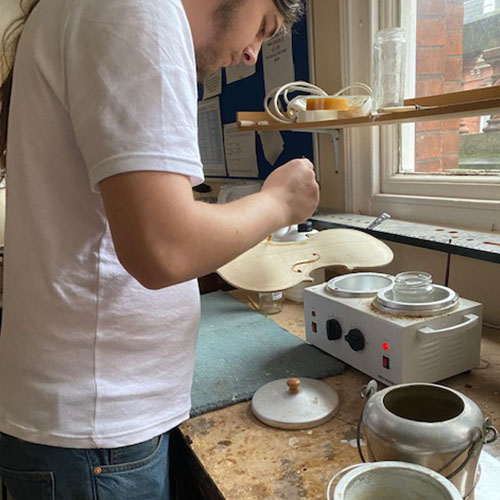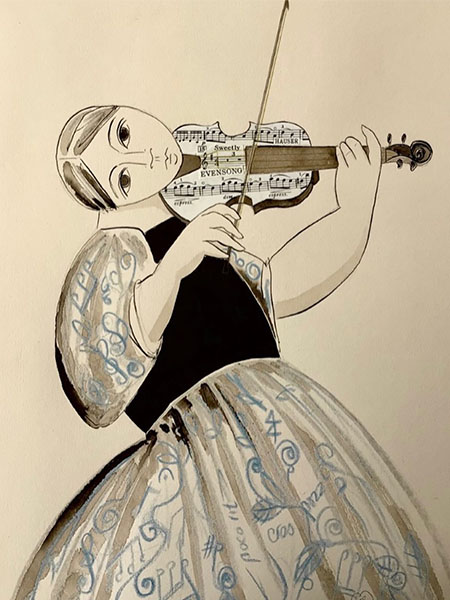 Evensong
Sarah Sharpe
Ink, wax, pencil and collage on Fabriano Rosaspina paper
Framed: 50cm x 68cm
Actual paper size: 36cm x 50cm
£600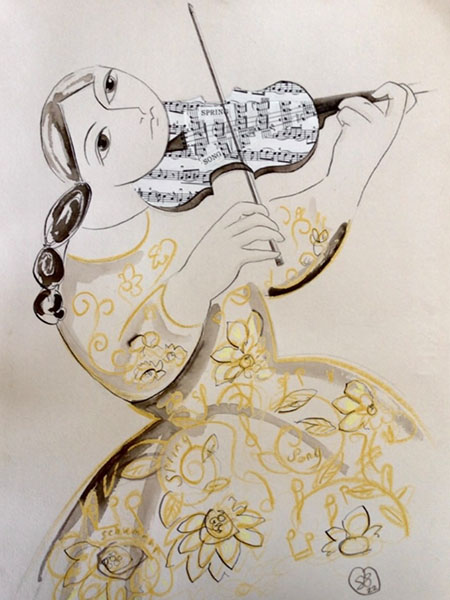 Spring Song
Sarah Sharpe
Ink, wax, pencil and  collage on Fabriano Rosaspina paper
Framed: 50cm x 68cm
Actual paper size: 36cm x 50cm
£600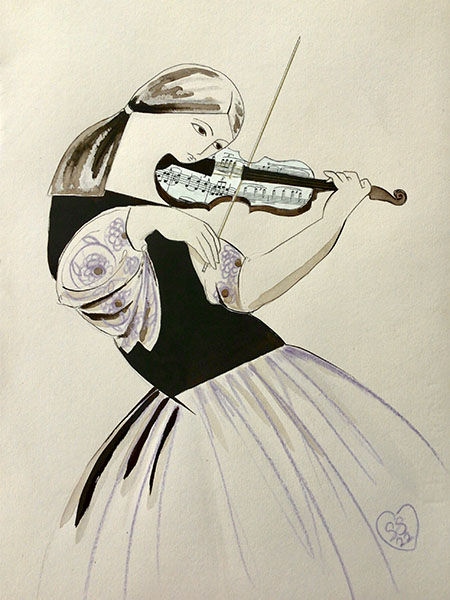 Soul Song
Sarah Sharpe
Ink, wax, pencil and  collage on Fabriano Rosaspina paper
Framed: 50cm x 68cm
Actual paper size: 36cm x 50cm
£600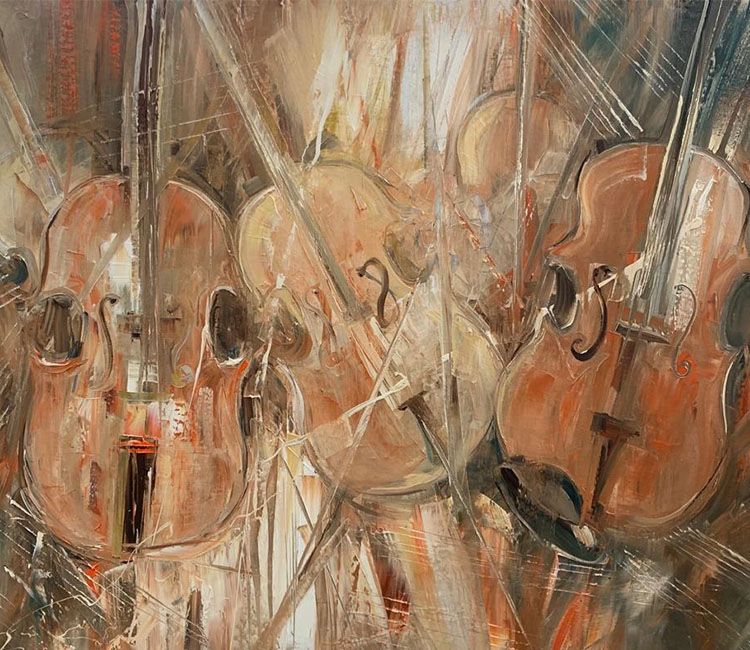 A Trio of Strings I
Ann Pollard
Oil on Canvas
80cm x100cm
£650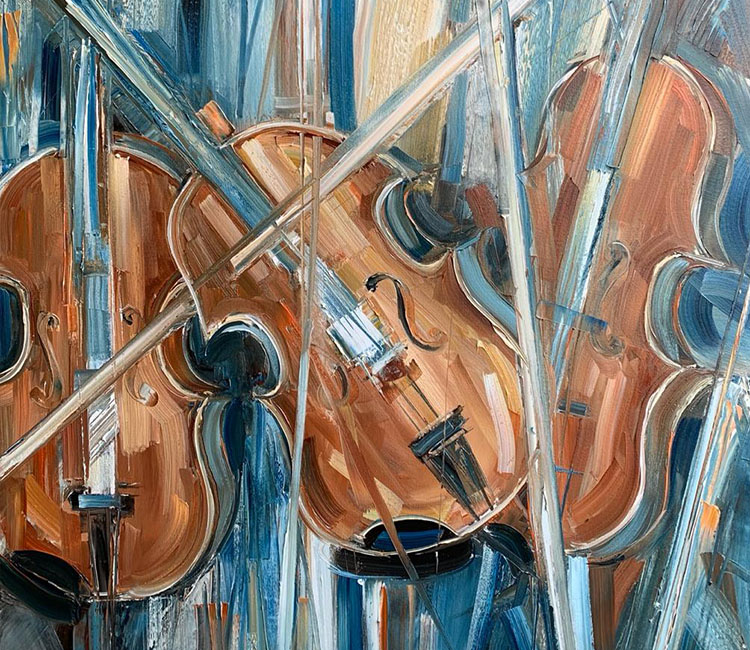 A Trio of Strings II
Ann Pollard
Oil on Canvas
80cm x 80cm
£550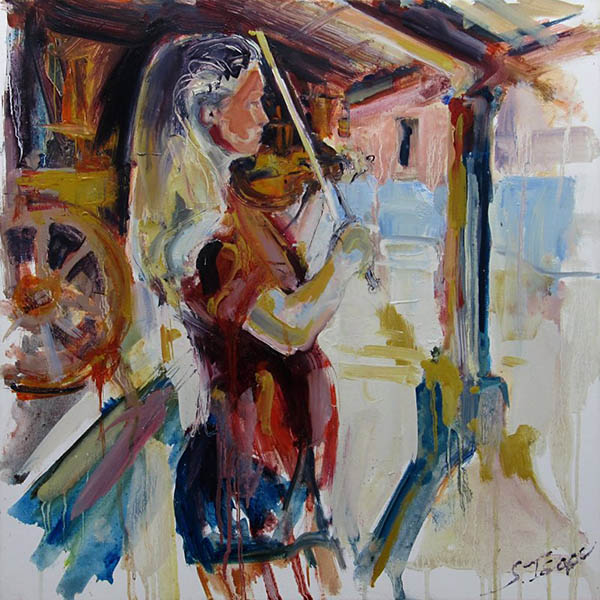 Strictly for the Birds
Susan Isaac
Oil on canvas 
58 x 58cm framed
£700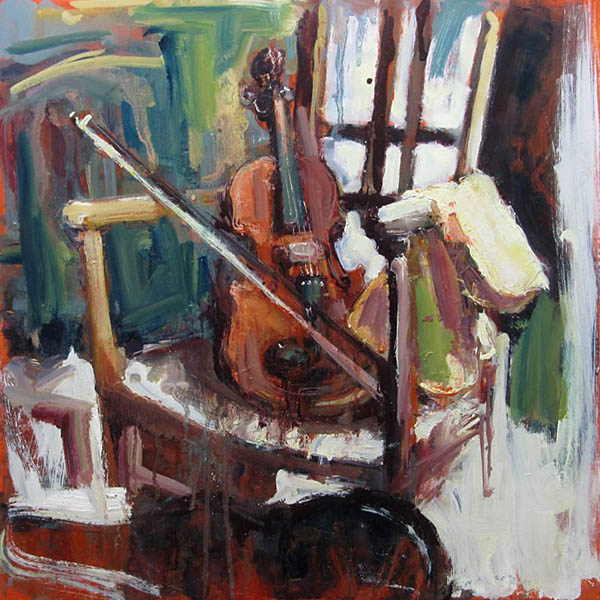 Violin at Rest
Susan Isaac
Oil on canvas 
58 x 58cm framed
£700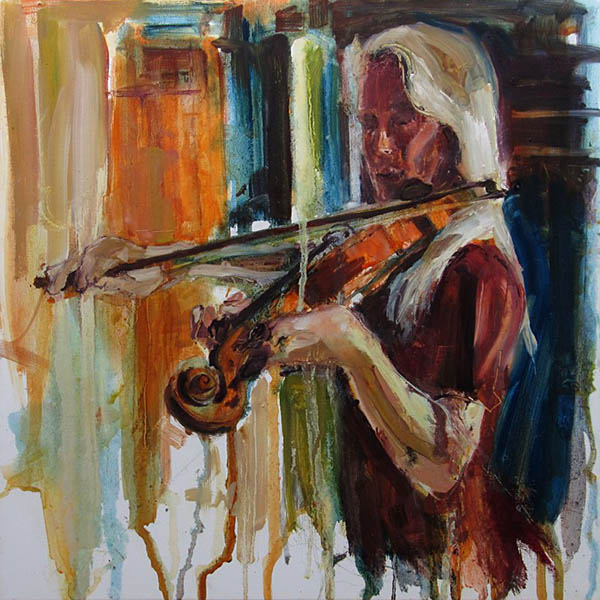 The Violinist
Susan Isaac
Oil on canvas 
58 x 58cm framed
£700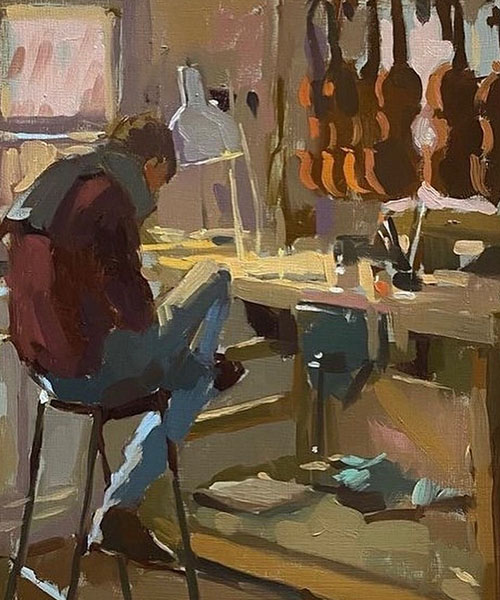 Attention to Detail
Haidee Jo Summers ROI RSMA
Oil
43cm x 43cm Framed approx 
£950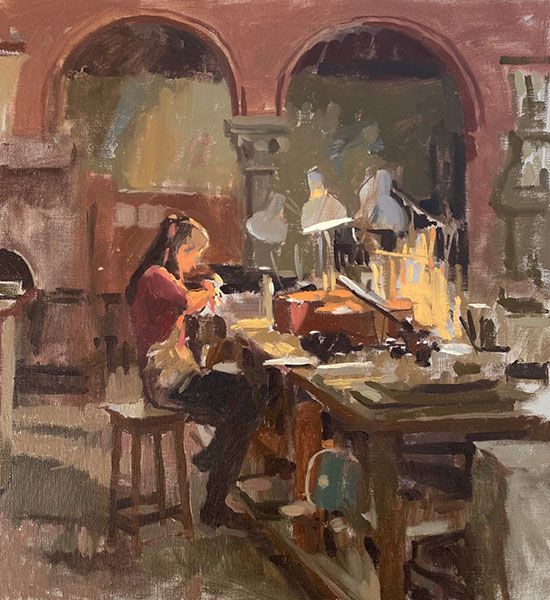 Where the Music is Made
Haidee Jo Summers ROI RSMA
Oils
48cm x 51cm approx framed
£1300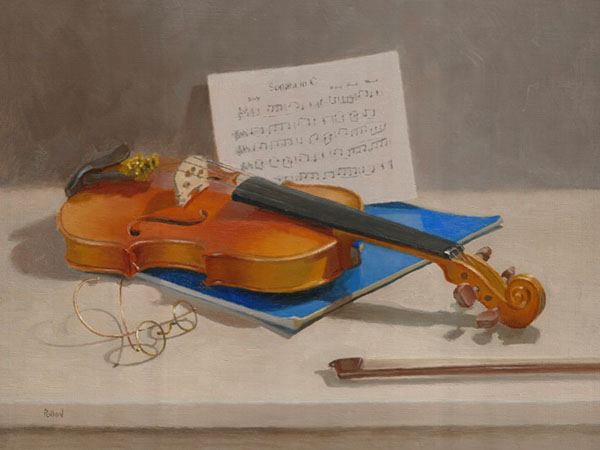 Sonata in C
Susan Pollard Gillespie
Oil on Panel
30 x 40cm
£595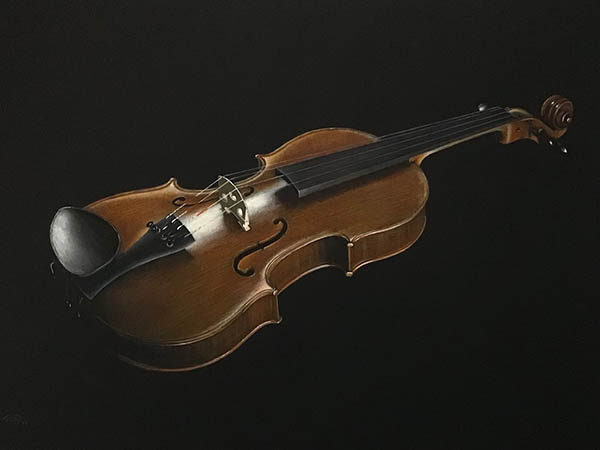 I Cry, I Smile
Wayne Ford
Mixed Media 
62cm x 78cm  
£875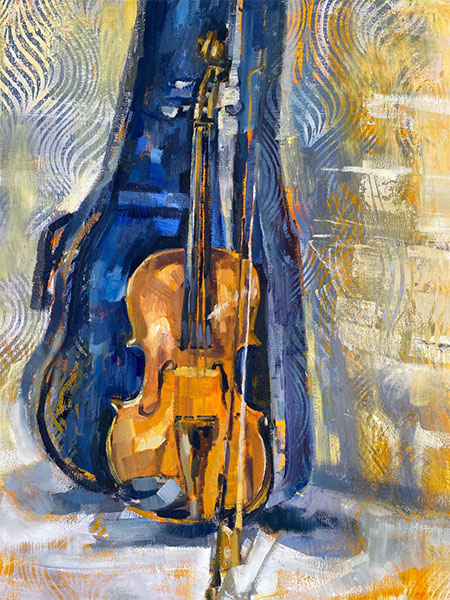 A Violin for Melody
Liz Goulding
Oil on Canvas
60cm x 60cm
£350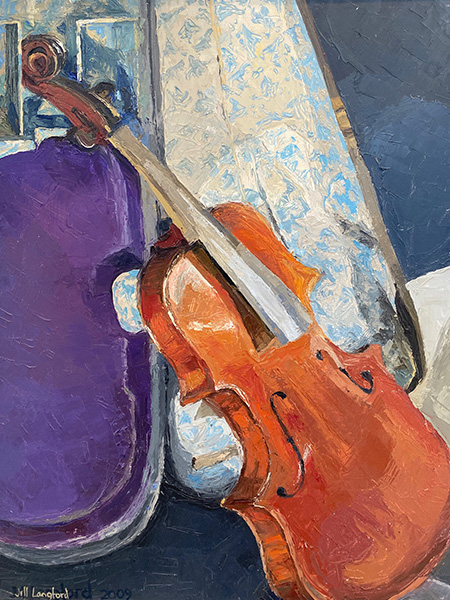 The Broken Violin
Jill Langford
Oil on Canvas
65cm x 55cm
£400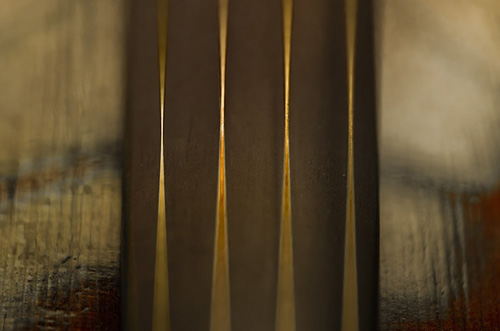 Quartet
27 x 18 cm
Year Printed 2022
30 x 40cm framed
Paper Materials: Archival FS Smooth Cotton 300 gsm paper / Canon pigment-based ink
£145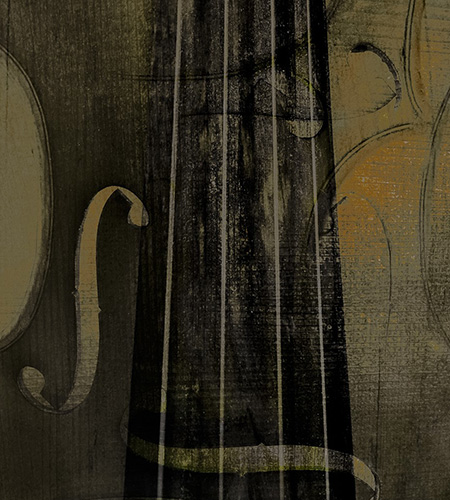 Solo
Edition: 1/3
Anette Holt
Year Printed 2022
18 x 20 cm
Year Printed 202230 x 40cm framed
Paper Materials: Archival FS Smooth Cotton 300 gsm paper / Canon pigment-based ink
£145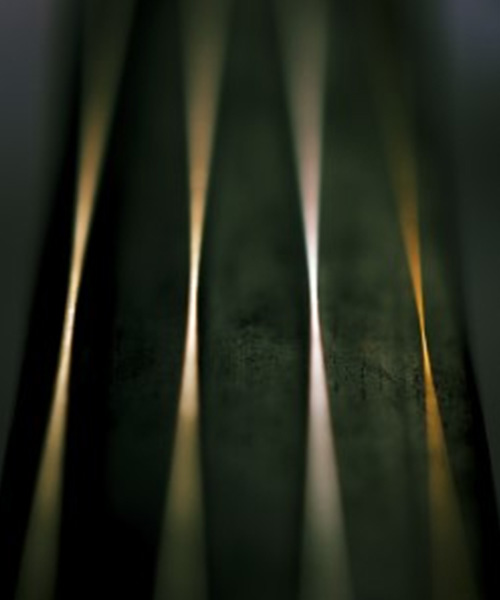 Resonance
18 x 20 cm
Year Printed 202230 x 40cm framed
Paper Materials: Archival FS Smooth Cotton 300 gsm paper / Canon pigment-based ink
£145
GALLERY 6
6 Stodman Street
Newark on Trent
Nottinghamshire
NG24 1AN
TUE: 10:30-16.00
WED: 10:30-16.00
THU: 10:30-16.00
FRI: 10:30-16.00
SAT: 10:30-16.00
01636 676 999
info@gallery6newark.co.uk
COPYRIGHT GALLERY 6  |  2020