A solo exhibition by Belynda Sharples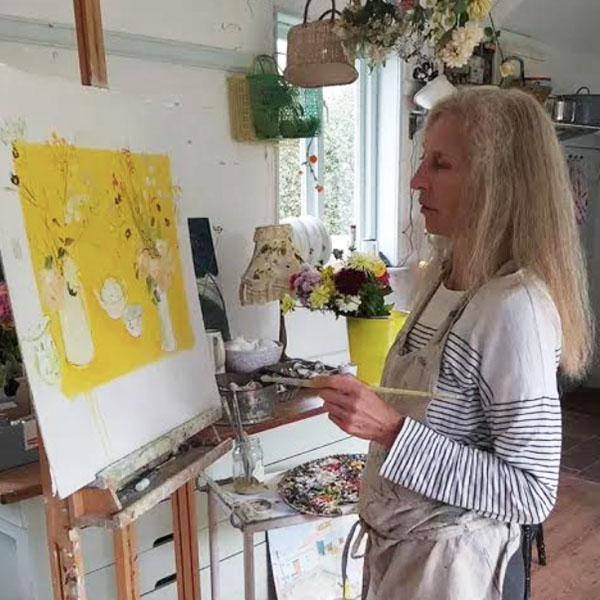 Belynda sharples is an artist, designer and ceramicist, who has spent her life observing and drawing the domestic and everyday. Belynda began her career in interior design, working in London before setting up her own interior design practice in Norfolk.
In 2005, she joined her partner in his printing business and launched her own collection of fabric and wallpaper designs. For the last ten years however, focus has been on painting and more recently ceramics. Here, a combination of natural drawing talent and a very personal sense of pattern and colour create work in response to the domestic familiar objects and spaces that surround her. She works intuitively, without a plan or direction, fuelled only by the objects around her.
A recent trip to India has left an indelible mark on my senses; the colour, the texture, the people and smells have seeped into my consciousness and I now feel I am treading a new path of rich landscapes of such diversity I have not seen or dreamt of before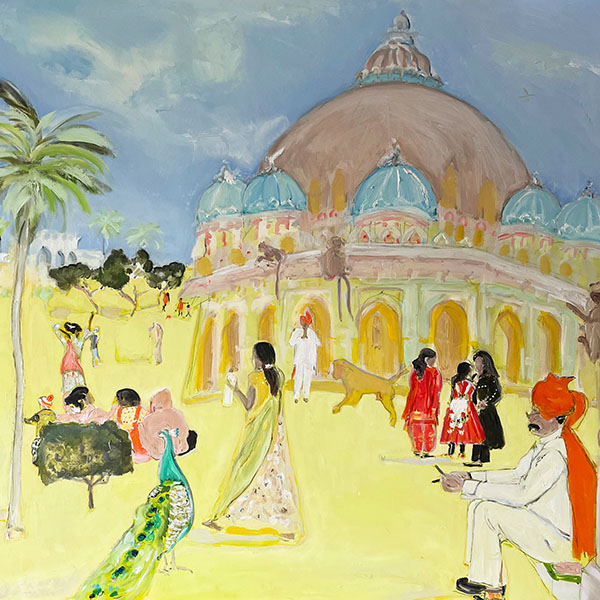 Monkeys & Peacocks Mingle in the Park
Oil on Board
60cm x 60cm
£1800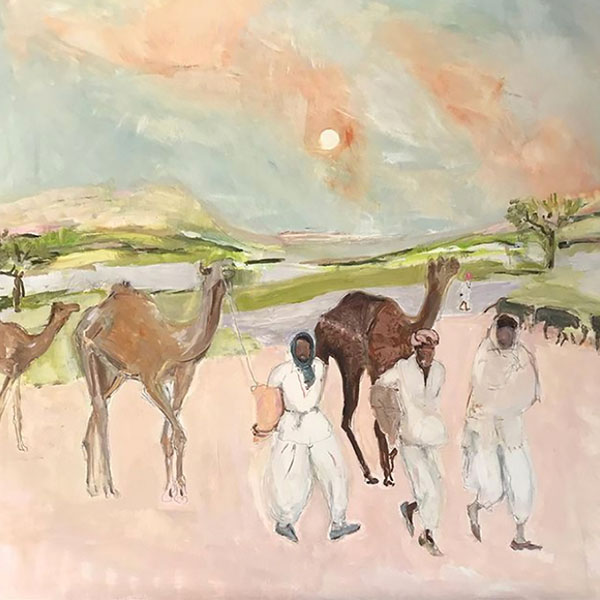 Pushkar Camel Fair
Oil on Board
60cm x 60cm
£1800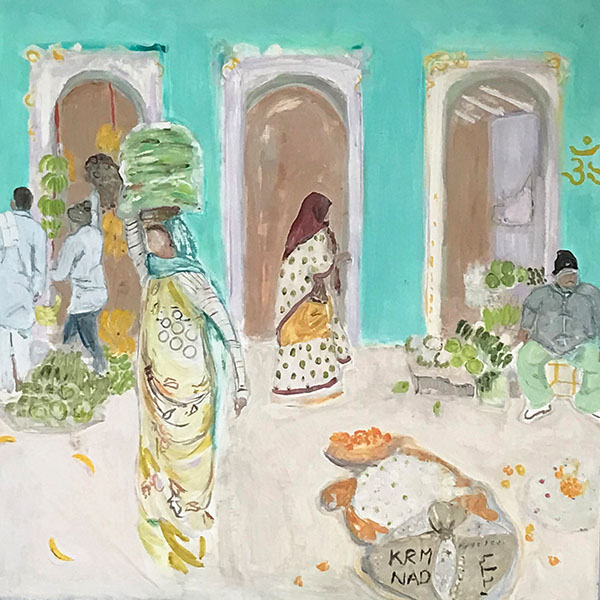 Jaipur Market lll
Oil on Board
60cm x 60cm
£1800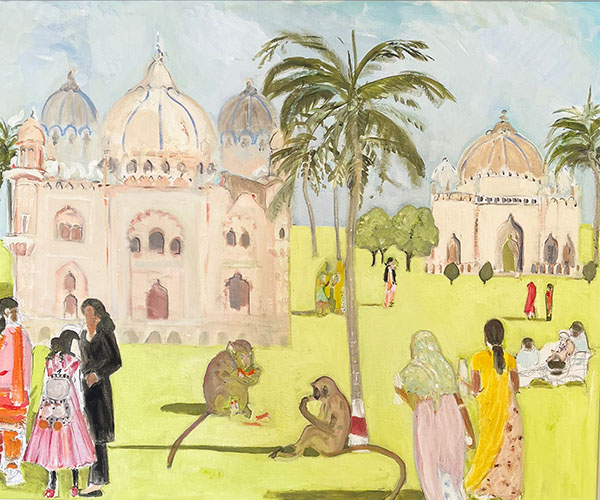 Parklife IV
Oil on Board
£1500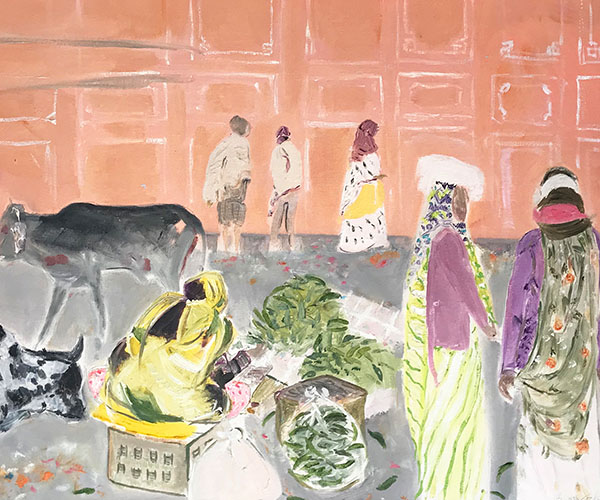 Market Day in the Pink City, Jaipur
Oil on Board
51cm x 41cm
£1350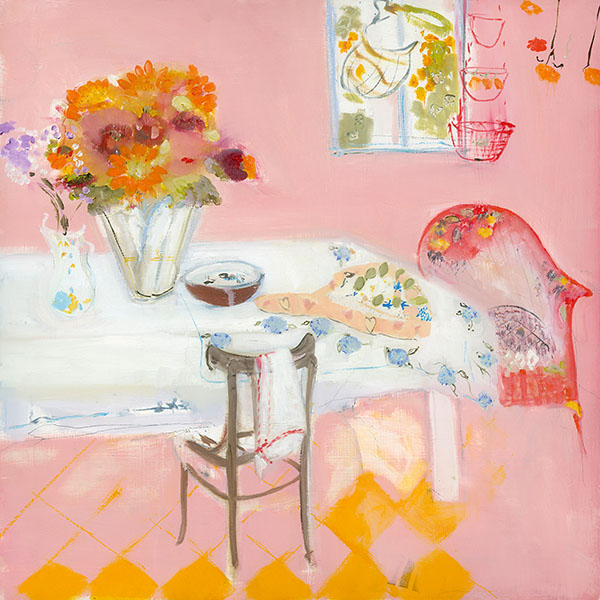 Bouquet of Flowers on the Table
Oi on Board
60cm x 60cm
£1700
Red Striped Vase, Yellow Background ll
Oil on Board
60cm x 60cm
£1800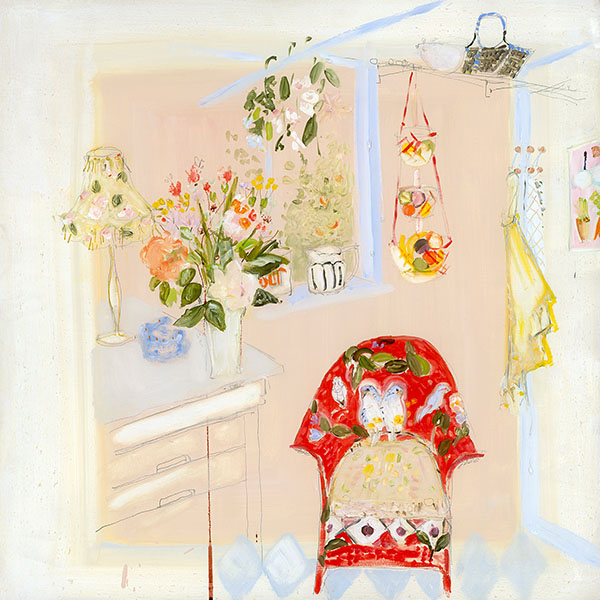 Summer Still Life No 5.
Oil on Board
60cm x 60cm
£1650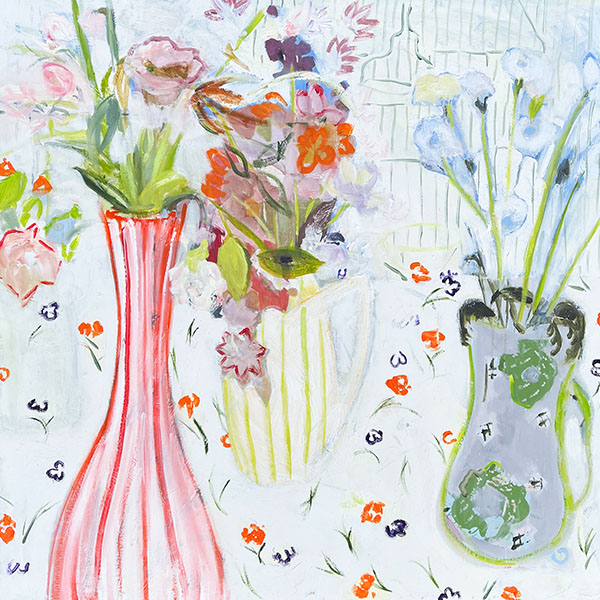 Three Jugs
Oil on board 
60cm x 60cm
£1700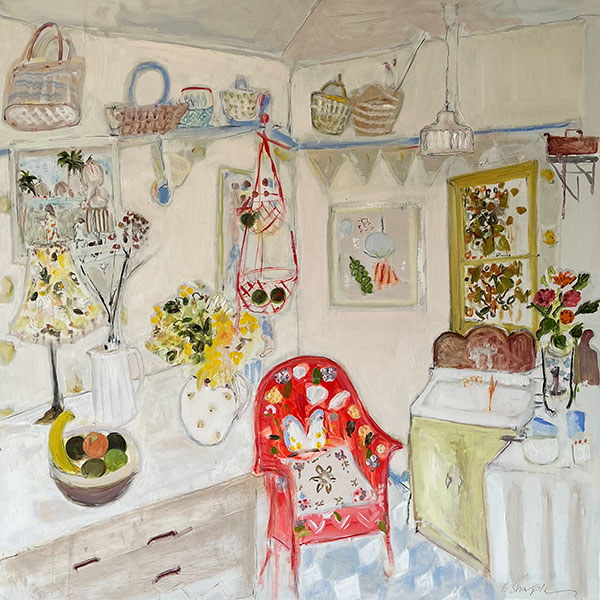 The Red Chair in Studio Setting
Oil on Board
60cm x 60cm
£1650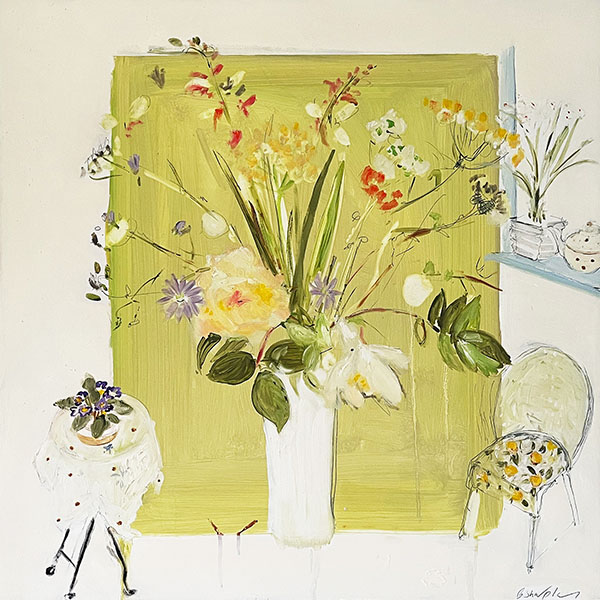 Studio Arrangement with Flowers
Oil on Board
60cm x 60cm
£1650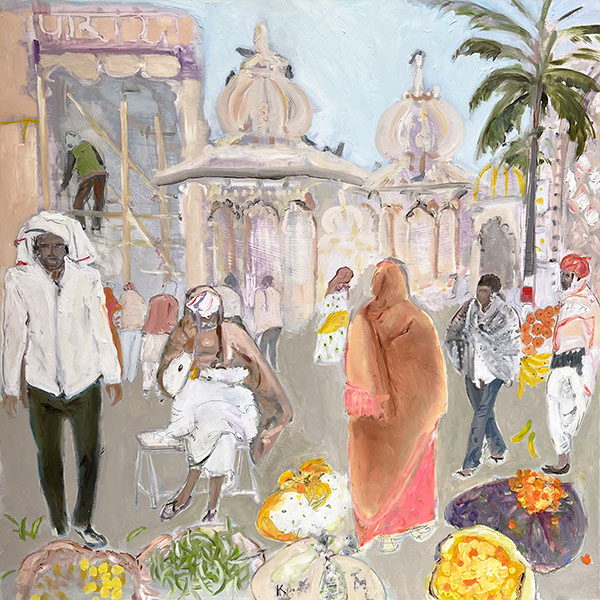 People of Udiapur
Oil on Board
60cm x 60cm
£1,900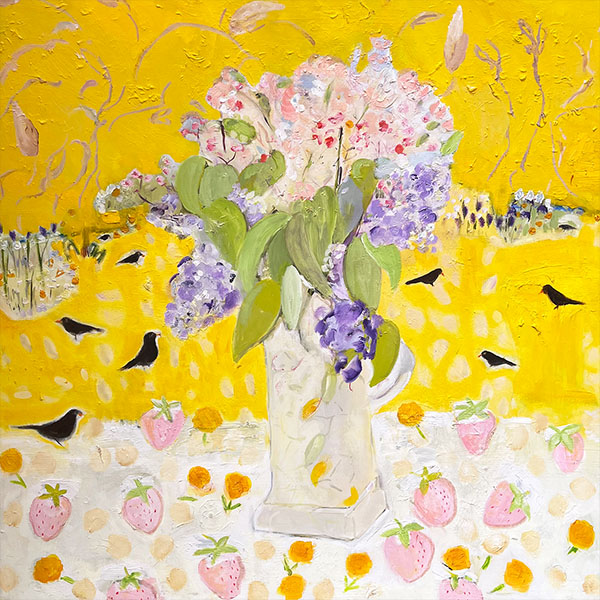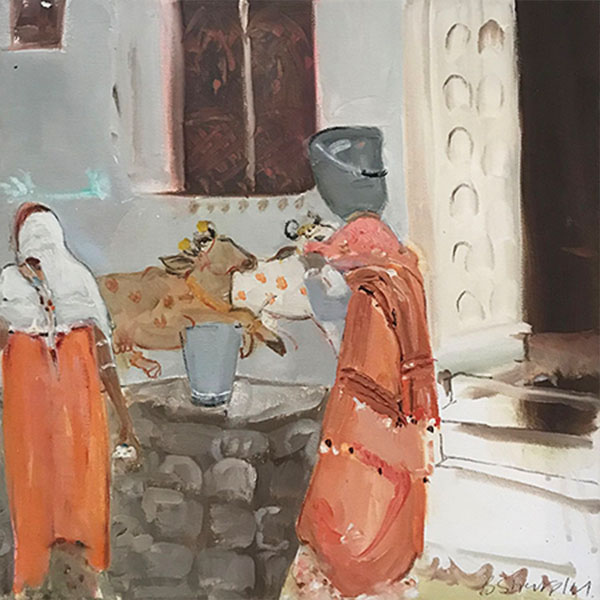 Women of India 
Oil on Cradled Canvas
30cm x 30cm
£800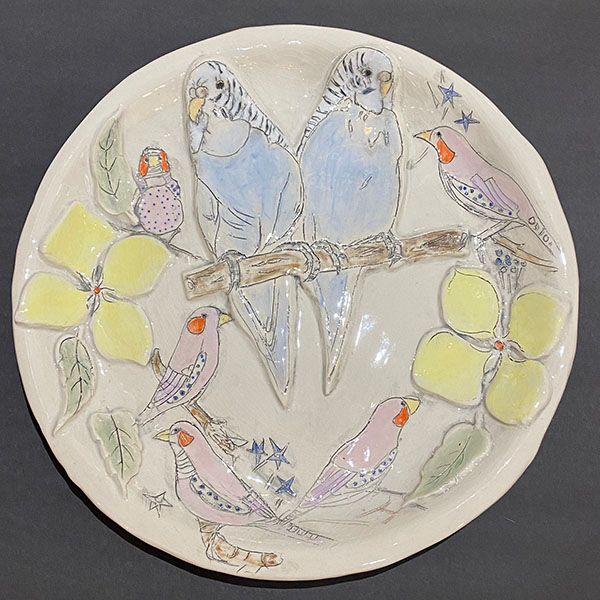 Large round Plate
Budgies, Finches & Flowers
35cm diameter
A one off decorative piece made from a mould and hand illustrated.
Earthenware clay with coloured underglazes
£450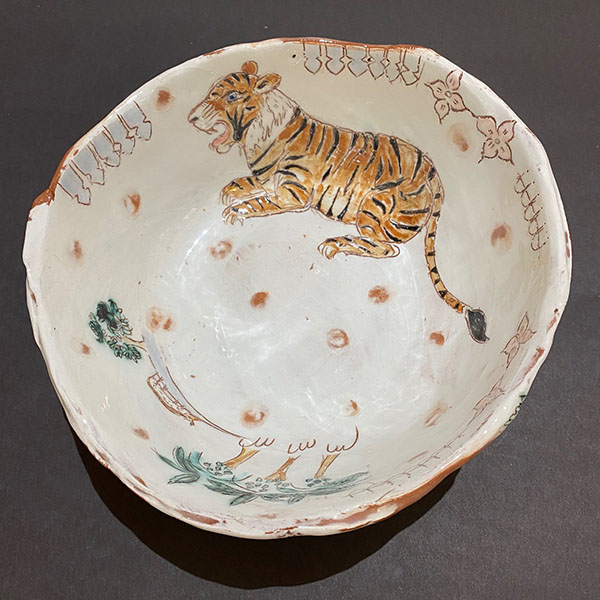 Round Dish
Terracotta clay with coloured slips and hand illustrated with Tiger and other Indian motifs
£350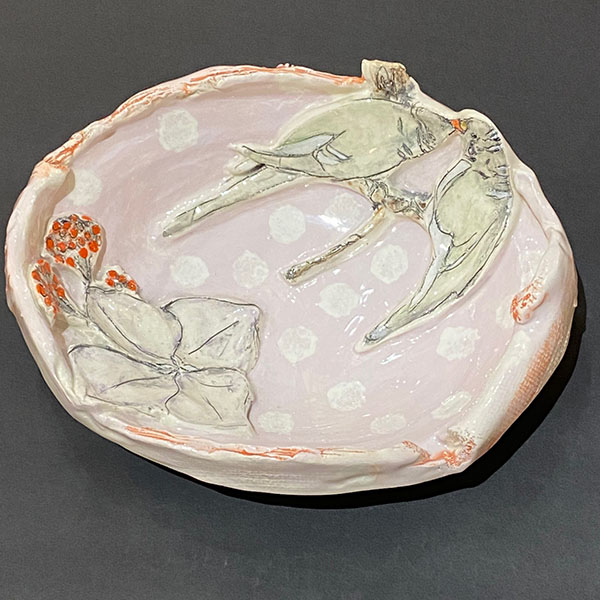 Pink spotted Dish with Budgies
Medium size shallow dish with relief budgies and flowers. Earthenware
W28cm x D 23cm x H 7.5cm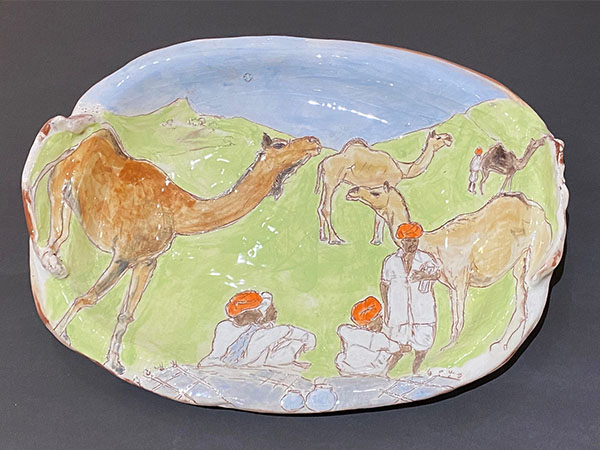 Large Platter
Earthenware with coloured slips. Hand illustrated with images of Pushkar Camel Fair, Rajasthan
£500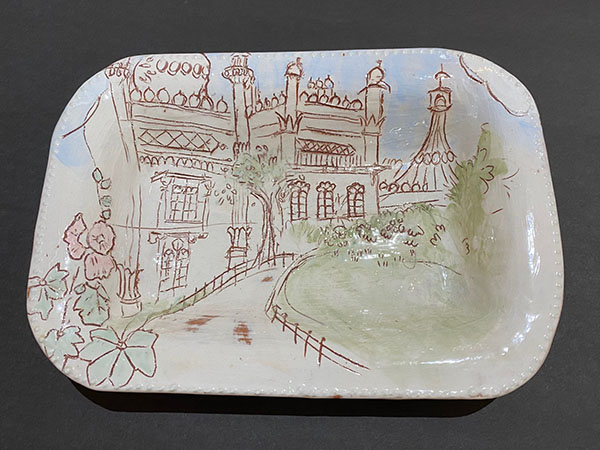 Small rectangular Earthenware Dish
Hand drawn image of Brighton Pavilion.
£175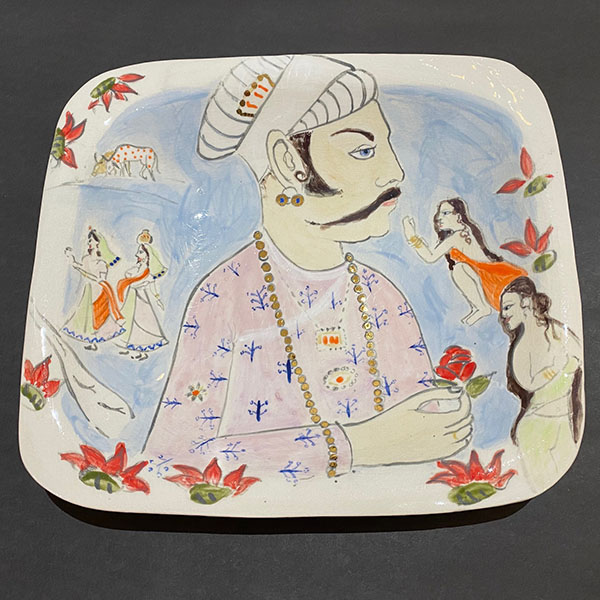 Rectangular Platter
29cm x 26.5cm 5cm (h)
Earthenware clay, coloured slips, Gold lustre. Hand illustrated depicting a  Maharajah  head and Indian motifs. (Front and back)
£395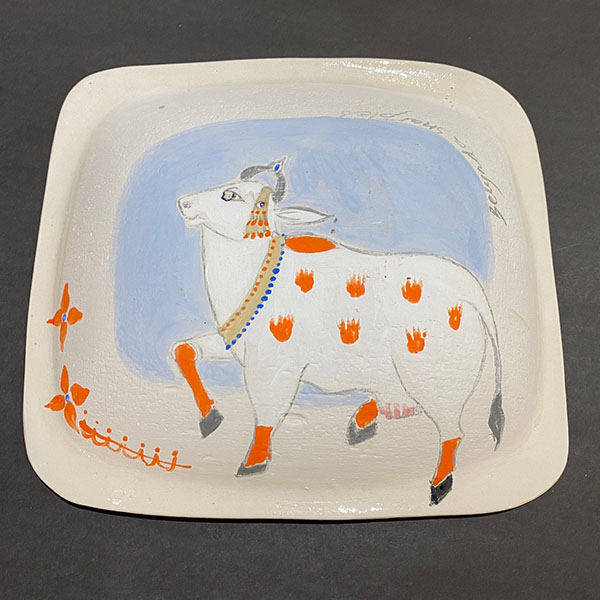 GALLERY 6
6 Stodman Street
Newark on Trent
Nottinghamshire
NG24 1AN
TUE: 10:30-16.00
WED: 10:30-16.00
THU: 10:30-16.00
FRI: 10:30-16.00
SAT: 10:30-16.00
01636 676 999
info@gallery6newark.co.uk
COPYRIGHT GALLERY 6  |  2020