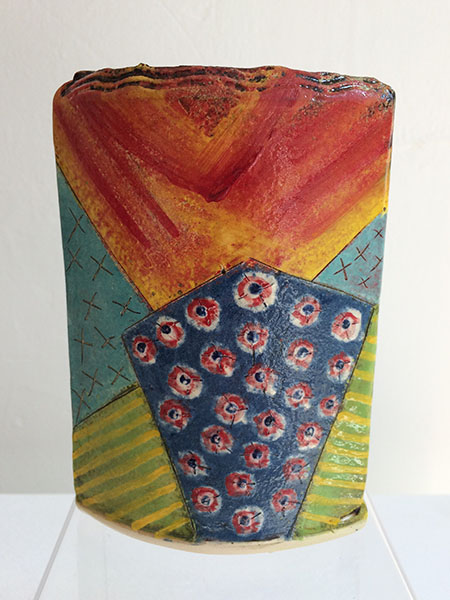 Small Slab 5.5″ x 4"
Earthenware £120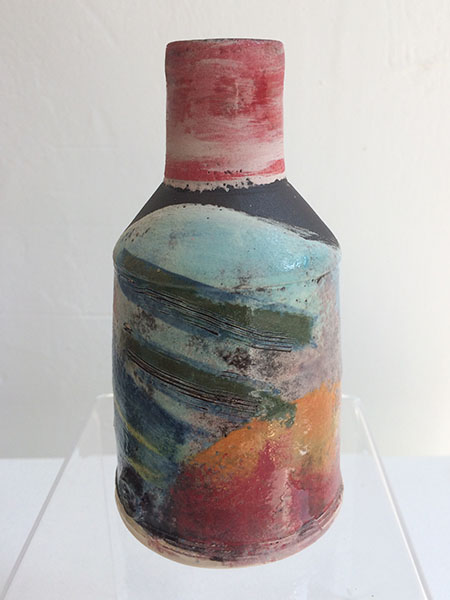 Bottle 5″ x 2.5"
Earthenware £80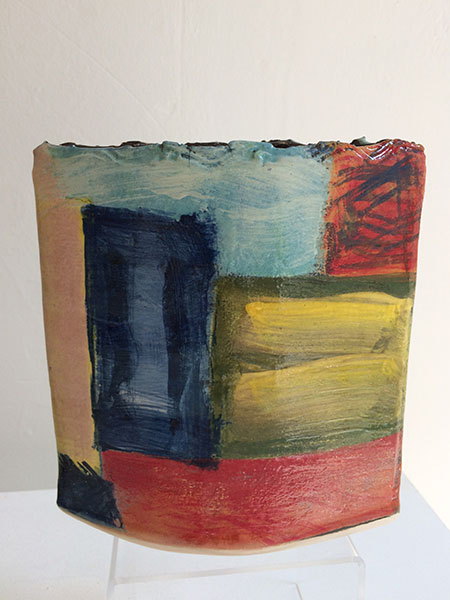 Slab 6.5″ x 6.5"
Earthenware £150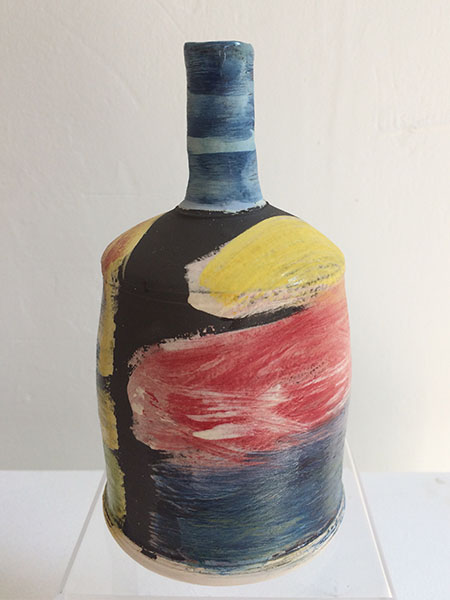 Bottle 7"
Earthenware £140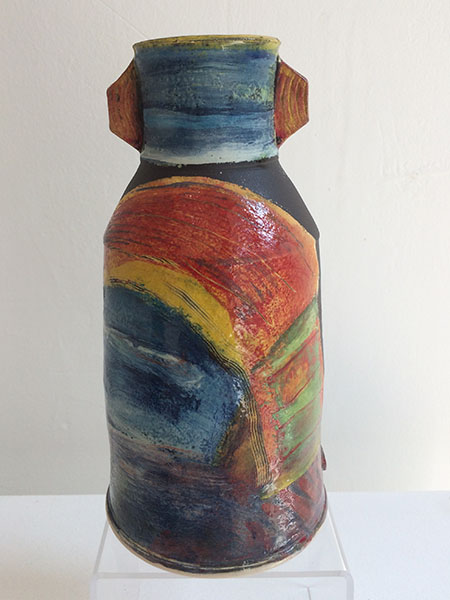 Bottle Neck Wings  9"
Earthenware £170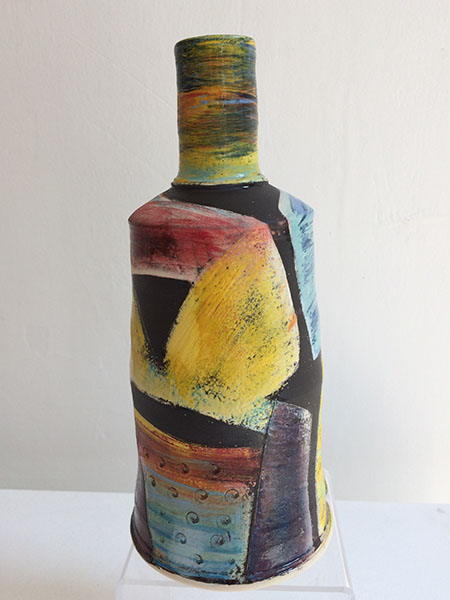 Tall Bottle 10"
Earthenware £250
John Pollex has carved out a unique niche in the world of studio pottery. During the 70's and early 80's he established himself as a respected maker of traditional Slipware, before his work took a dramatic turn. In 1981 he was invited to take part in a lecture tour of New Zealand with the contemporary American ceramist Don Reitz. The bold use of colour in the work of Reitz was exciting compared to the muted tones of celadons, tenmokus and honey glazes back in Britain; consequently he became more interested in the colourful work being produced by potters in the USA. 
In 1984 Pollex decided to change direction. Referring to the work of painters such as Sir Howard Hodgkin, Robert Natkin, Patrick Heron and Ben Nicholson, Pollex used his knowledge and understanding of the application of slips (liquid clay) to develop a completely different style of working. He dispensed with slip trailers in favour of paintbrushes and sponges and more recently plastic spatulas, intensely coloured earthenware slips are applied in a free and painterly abstract manner. The change seems to have been clean and dramatic and appears to owe nothing to the slipware of before.  
Apart from his regard for the aforementioned painters, Pollex's work often includes references to his interest in Zen Buddhism, in particular the immediacy of brush strokes in Zen calligraphy. 
Pollex is often asked why he never paints in the conventional manner. He says that he has always been a potter who enjoys what he does and he still feels there is much more to discover in the world of ceramics. 
For Pollex music plays an important part in the activity of painting a pot; it helps him to create an atmosphere that reflects his mood and feelings at the time. His preference generally falls into two categories, which he likes to think of, as inner and outer. The inner being more contemplative, which might include Gregorian chants, Indian music and the timelessness of the Shakuhachi from Japan. The outer would cover anything from modern jazz to opera. 
John Pollex studied at Sir John Cass in Whitechapel from 1966-68; he then went on to become Technician at Harrow College of Art during 1968-70. After Harrow he became assistant to Colin Pearson until 1971. He moved to Plymouth in the autumn of 1971.